List of Useful Dog Bathing Supplies
Somehow our dogs can sense when it's time for a bath. We don't behave any differently (at least we don't think we do), but they know, using their unfathomable doggy senses. Having the right dog bathing supplies on hand can make the experience easier & hopefully less messy for both you and your dog. Many of these supplies can be found in your own home, or they're readily available online (and sometimes you'll be lucky enough to find discount dog supplies too).
This article may contain affiliate links. When you purchase through links on this site, I may earn a small commission at no extra cost to you.
It's a mystery why so many dogs will happily splash around in the lake or the creek (or even in a mud puddle), but will run away when it's time for a bath. Try your best to make the experience as positive (or at least as low-key and non-stressful) as possible. Also don't bathe your dog too often since it can dry out their skin. Just when needed!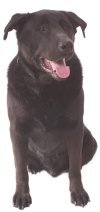 Old sheets or something else you can use to cover the bathroom floor. While these aren't necessary, it'll save you from trying to sop up the water from all over your bathroom after you're done. Make sure you remove any magazines/books that may be lying around the bathroom, as they could get wet!
A small pail or bucket that you can use to pour water over your dog. A flexible / detachable shower head also works really well.
A good comb. Before the bath, comb through your dog's fur, removing any burrs, twigs, grass, loose hair, etc. This will make it easier to comb them after the bath, too.

As your dog dries after the bath you'll want to repeat the combing process to again remove any loose fur. Be gentle - imagine pulling a comb through your wet hair... a gentle touch is always appreciated.

Doggy shampoo & conditioner. Don't use people products since they are often far too strong for a dog's skin and coat. Pet supply stores and your veterinarian's office will carry them, or else look for dog supplies online.

Wet the dog's fur first (this may take a bit of time for dogs with thick fur). Pour water over him and massage it in. Then work the shampoo throughout his fur, making sure to get his legs, underbelly, tail, etc.

Washing around the head & ears: be careful not to get water into the dog's ears as this can cause infection. You can place cotton balls in the outer portion of their ear (don't "stuff" them in - ask your groomer or vet if you're unsure)... just remember to remove them after the bath! Or just gently hold your dog's ears closed as you wet the fur in that area.

Washing the face: again, it's not a good idea to get shampoo into your dog's eyes, mouth, etc. We use a damp cloth to gently wipe the dog's face clean.

Be sure to rinse your dog thoroughly.
An extra pair of hands. If your dog really doesn't like to be bathed, it may be necessary for you to have a helper. Try to not stress out doggy... look at it as an adventure! Talk in a calm and upbeat voice, but make sure he stays put (it's not safe for either him or you if he attempts to get out of a slippery tub).
A bunch of towels. Get ready - once your dog's out of the tub, he's probably going to give a few good shakes! Just before we take our dog out of the tub, we rough up his fur and then quickly close the shower curtain. He shakes vigorously inside the tub (and the shower curtain prevents water from getting everywhere)... then we drop a couple of towels on him and dry him off as best we can. Gently squeeze excess water from his paws, tail, and other places where it may gather (a thick ruff, for example).
Gathering together a bunch of dog bathing supplies might seem like overkill just to give your dog a bath... but it really does make it go more smoothly, and more quickly, too! The fun part is watching them run around after their bath, wet and happy.